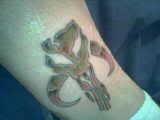 Photos of my new tattoo… courtesy of
Ciggy
. (thanks babee)
So, what does a crazy, neurotic chick do for her birthday when she doesn't know a fucking soul in a town? Well, hell… get a tattoo of course. Lol. I do have one dear friend here, a sweet punk rock, single father who loves star wars and hooked me up with this tattoo parlor,
Top Notch Tattoo
. I stumbled in there tonight, and got myself this fucking awesome tattoo. (thanks Brian). I wonder if any of you can guess what it is? Cyber blow jobs to the right answer.
**Cyber Blow job to mmmmm. Yes its a Mandalorian Skull, worn by Boba Fett
Yeah so, today is my fucking birthday. Im stuck in the middle of nowhere, where I don't know a soul. I guess its good to be alone, it makes me stronger. But I miss my friends, I miss my action figures… I miss my former life.
Interestingly enough, I found some celebrities who share my birthday. Ron Jeremy, Liza Minnelli, James Taylor, Daryl Strawberry, Jack Kerouac Hrmmmm. Anything in common here? Sex addiction, drug addtiction, insanity… creative artistry. Maybe its in the stars that I am the way I am. Lol.
I will keep this short tonight. This crazy ass rolercoster ride called life is kicking my fucking ass. All I can do is move forward, and ride the crazy wave. I wish i could blog about some of the things going on in my life, but sometimes life is too personal and painful to share.
Peace out… thanks for reading.
This song is for you..... you know who you are.
I took my love and I took it down
I climbed a mountain and I turned around
And I saw my reflection in the snow-covered hills
'Til the landslide brought it down
Oh, mirror in the sky, what is love?
Can the child within my heart rise above?
Can I sail through the changin' ocean tides?
Can I handle the seasons of my life?
Mmm, mmm, I don't know
Mmm, mmm...
Well I've been 'fraid of changin'
'Cause I've built my life around you,
But time makes you bolder, even children get older
oh, I'm getting older too
So...
I've been 'fraid of changin'
'Cause I've built my life around you
But time makes you bolder, even children get older
I'm getting older too
I'm getting older too
Oh, Take my love, take it down
Oh, you climb a mountain and you turn around
And if you see my reflection in the snow-covered hills
Well, the landslide'll bring it down
Oh, and if you see my reflection in the snow-covered hills
The landslide will bring it down
Oh, oh, the landslide will bring it down