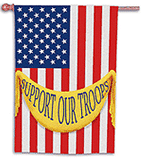 Lets Not Forget
With the political election, Hollywood drizzle, summertime blues, and other news filling our minds, lets not forget our troops. Yes, for me it's very personal because my brother is a Captain in the Army and just returned home from Iraq. However, with his return, others went to take his place and when (and if) they return….. my brother will go back. The war may be "officially" over, but we still have troops there. Our troops will probably be there for years to come. We can never forget them, and the sacrifice they are making.
Voluntary Service
When I was ranting about my brother going back to Iraq the other day, our favorite blogger,
Todd Vodka
brought up a good point. In his Sideshow Bob like style he reminded me that my brother voluntarily enlisted. This is very true. These heroes voluntarily enlist to protect us, to put themselves in harms way, to potentially die for us, and fight for our freedom. For this I thank them, I pray for them, I love them, and I think about them daily.
Government Property
I was a navy wife for four years. It's hard when you are married to and have a family with "government property". The military comes first….. always. The family comes second, that is how it is. This was always hard for me to deal with and accept, and truthfully, I never accustomed myself to that fact. During my navy wife days, the first Persian Gulf War was going on, and my husband, a navy Seabee, was called up to go. Our son had serious health problems at the time, and thanks to letters from doctors and pastors, he was able to get out of it. Instead he stayed home and worked 24 hours shifts driving military men to airplanes headed for war. I never saw him, he was never home. Looking back now, I can laugh and say that was a good thing because we didn't get along. But truthfully, it was very, very hard. I was a young mother, I didn't know anyone, and my husband was never home. I can only imagine how hard it is for families whose husbands/wives actually do go to Iraq. My heart goes out to you all.
American Soldier
Yesterday I was contacted by a blogger known as
American Soldier
. Actually, I had found his blog and posted some support and a hug. After reading his comments and visiting my blog, he contacted me. American Soldier is a married father who is about to be deployed to Iraq. He will probably miss Christmas this year with his family, as well as other important and monumental events. His blog will be not only a way for him to vent, but also a major communication line for his friends, family and supporters. Due to the comments section on his blog, it is also a way for us to support him.
Soldier Blogs
In my quest to support our troops I have came across several soldier blogs. My side bar has links to many of them. Some of these soldiers are currently in Iraq or Afghanistan and some are here in the US but away from their families. Their blogs serve as a real news source, a reality TV like glimpse at what life is like for our troops. These blogs are also way to show support and love for their sacrifice and commitment to US. I encourage you all to visit and support these military blogs. Drop them a line of thanks too.
Luv to Jack
Another blogger hero is our beloved jack and his blog
Texas Music
(pronounced Texass by me lol). As a reservist he also voluntarily enlisted to serve and protect us. Thanks jack for all that you do, we love you. Thank you for being my friend, and helping me too. xxxooooo
Thank You All
I thank and send love to all of our troops and their families. You are all oh so LOVED!
Some special shoutout to my homey military blogers
-I didn't want to play favorites, because all military bloggers need love and support, but I had to do a special shout out to some special bloggers.
Navy Doc Marc
My pacific northwest sweetie in Bethesda. You're a great guy, thanks for making our area proud.
CB
My cool cat Bay Area punk rocker currently in Iraq and jamming to the Smiths. I think your writing is Amazing. You should definitely compile a book.
Sean Doc in the Box
Im glad your coming home. You have been an amazing reference for soldiers, families and supporters. Your photoblog is heartbreaking and beautiful, your
blog
is informative and well written. Your awesome, and I cant wait for the video. Thank you.
Wendy
I thank you for your support. I think of your son in Iraq and send him love and positive energy. Same to you and your husband.
Sgt. Hook
You are my hero!
Jason
I hope you keep writing. You are loved.
Doc's Grrrl Psycho Alice
Blessed Be! Beautiful goddess. Your man is almost home. Your support to him has been an inspiration.
91Ghost
Your writing rocks!
Jenny Just an Army Wife
Love to you, your family, and your husband.
David
You are an amazing person. You are so loved.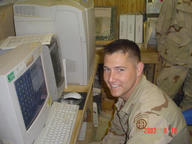 Blogarama
Visit my Guestbook