In my teens I idolized Marilyn Monroe, she was sexy, sultry, and oh so beautiful. Marilyn was my dream grrrl, until my early 20's when upon my sexual liberation I first became expose to Bettie Page. Unconsciously, almost as if fate had intervened, by my early 20's I started to cultivate the Bettie Page look. This was before I even was aware of who she was. I prefered to keep my hair dark, with short bangs, I preferred 50's style clothing, and I was especially was into sporting anything leopard print… bras, panties, furniture, purses, shoes…Everything. Once I became aware of Bettie I felt a soul connection, as if my spiritual sister had paved the way for my sexual and personal identity.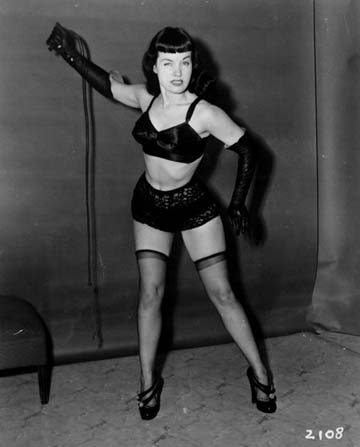 Bettie the Bondage Babe
Bettie was also very naughty, her highly publicized "bondage" photos still leave a legacy of both fetish and intrigue. From what we saw in the photos, Bettie liked to be spanked with a hairbrush, spank other grrrls, be tied up, gagged, and emulate the persona of a Dominatrix Diva. Bettie made this look oh so exciting, and I couldn't wait to emulate her in every way. To this day, one of my dreams has been to do a black and white photo shoot in homage to Bettie's bondage shots. Im still waiting to find the "right" photographer to complete this goal. LOL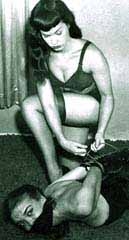 Dominatrix Divas!
I started getting into bondage and fetish in my early 20's. This culminated when I moved to the Bay Area, and would attend fetish shows and Sexstacy balls (Featuring bands such as Lords of Acid and Thrill Kill Kult). At these events, a bunch of us grrrls would dress to the nines in full on bondage gear and then go out and paint the town red. For my look, I would usually sport fishnet tights held up by an exposed garter belt, a short vinyl mini skirt, black bra, see through top, and accessorize with spiked cuffs, spiked collar, handcuffs, a whip, and a big leather cock ring worn on my arm as a bracelet. Being that I am about 6 feet tall, I would always play the Dom. My grrrlfriend, who was a petite brunette, would be my slave, dressing in a shear see-through dress, with black bra and panties exposed, a big dog collar with a leash…of which I of course had the reigns! We would parade around, and I would spank her and we would kiss, and fondle each other, and act all wild and and oh so crazy. We especially liked to "go wild" AFTER the fetish show, out on the town, where we could shock the locals. Granted it was San Francisco, but we still got some shocked and surprised looks from passerby's. This was all for fun and show, but none of these theatrics really made it into the bedroom. I do have a bunch of great photos from these adventures that if I am able to scan one day, I will share.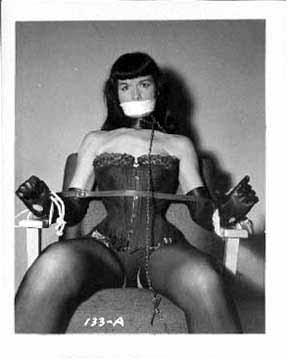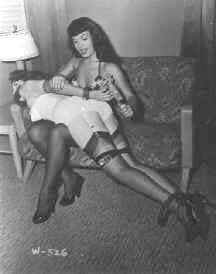 Peak inside Vadergrrrl's playpen
Sexually my bondage experience seem to keep me in the position of slave grrrl. I have been blindfolded and tied up numerous times during sex.(very fun especially with silk sheets, candlewax, and other naughty bedroom toys) I have also been handcuffed, or forcibly restrained. I love to be spanked, bitten, have my hair pulled and be roughed with. It seems however, that my being female, most men I have been with insist on being the Dom, and my being the slave. Most men like to spank, but don't want to be on the receiving end. Believe me, I try to get them to bend over my knee, and use a hairbrush on their ass, but they just wont let me do that for long. They would wrather, it seems, do that to me. Like the freak I am, I of course LOVE IT! I have tied a man up and given him oral, or gotten on top, and they do seem to like it when they can just lay there and I do all the work. It seems when it comes to bondage, I am the slave…. Not the Dom. Though I like to play one on TV... LOL.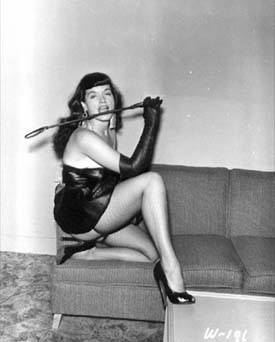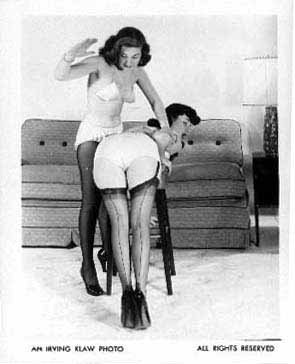 Thank you Bettie!
Thank you Bettie for teaching me how to be sexy, liberated, naughty, and a dark haired diva. We will probably never know, what really happened to Bondage Queen Bettie, but we will love and cherish her Goddess image for a lifetime…
Xoxoxoxo love you Bettie! Below is an short article on Bettie, and then some bondage sex tips...
Photos from this site
Excerpt from article on Bettie
Bettie link
Black Bangs, Bikinis and Bondage
Desiree Krauss
The legendary Bettie (her preferred spelling) Page has a huge cult following, and with good reason; she is simply the queen of pin-up girls. The voluptuous, dark haired beauty with her trademark bangs captured a unique mix of naughty and nice in the 1950's that is still revered today by many fans. She may not be as publicly known as say, Marilyn Monroe or other starlets of that era, but it's that dark edge that makes us love her. It has been estimated that over 20,000 photographs of Bettie have been taken – more than Madonna, Greta Garbo and Marilyn Monroe combined.
She was born in Nashville, April 22, 1923, the second of six children. Her family suffered from economic instability during the Depression and her parents encountered many problems; her father was abusive and womanizing. When her parents divorced, Bettie, at the age of 10, and her sisters were placed in an orphanage while her mother worked and saved money.
In high school, Bettie was a straight A student, active in school activities, such as the drama club, and didn't date very much. She was even voted "Most Likely to Succeed." She also learned to sew and would later make many of her own costumes. She fell a bit short of being class valedictorian and lost a scholarship to Vanderbilt University. After high school, she enrolled in the Peabody College for Teachers in Nashville. Billy Neal, her boyfriend, became her husband during her first year at Peabody, but he was drafted and sent off to War. She graduated in 1944 with a B.A. and moved to San Francisco to be closer to him. She got her start in modeling in San Francisco, posing in fur coats for a local furrier.
When the War was over, Bettie and Billy grew apart; she did quite a bit of traveling during this time to Miami, Nashville and Port au Prince. In November 1947, she filed for divorce. (She would marry again two more times!) Bettie Page moved to New York, where she met Jerry Tibbs. Jerry was a cop who dabbled in photography. He helped her put together her pin-up portfolio and suggested that she wear bangs to mask her high forehead, which would become her signature look.
Her modeling career took off; she began posing within camera clubs, where as many as sixty photographers would be snapping away. Her shots showed up in a variety of cheesecake magazines. She had no qualms about posing nude. Bettie preferred outdoor shoots; many of her infamous beach shots are by Bunny Yeager.
Bettie Page began working with brother and sister team Irving and Paula Klaw in 1951, posing for what were very controversial bondage photos in the conservative, "I Like Ike" days of America. Her uber-high heels, whips and other accoutrements of domination were ordered up by the customers who purchased the photos. Ms. Page laughed at some of the odd requests, yet was able to deliver these poses with a twinkle in her eye.
The success of these photos led to 8mm shorts such as Varietease and Teaserama. She made at least 50 of these infamous short stag films.
She was chosen as the centerfold in Playboy's January issue in 1955. The picture chosen was bought by the then-fledgling magazine from Bunny Yeager. Bettie was just shy of 32 years old at that time; ironic considering most models were considered "over-the-hill" at 25.
A huge controversy stirred over the Irving Klaw fetish films, and the U.S. government investigated Klaw as a pornographer. He was arrested for distribution of obscene material and it is estimated that 80% of his photos were burned.
Also around this time, it has been said that a pornographer placed Bettie's head on another woman's body. The only set of "nasty" photos may have been taken at a party where Bettie was drunk, but this was pushing it too far. Bettie spent much of her savings buying up these photographs.
Feeling burned out, she ended her modeling career at its peak in 1957. She left New York for Florida, and became a devout Christian in the late fifties. Today she lives privately with her family in California, never to be photographed again, but she is clearly etched in our memories as the bikini-clad, black banged girl.
BONDAGE TIPS 101
What would be a Vadergrrrl post with out some sex tips. For those curious about bondage here are some tips. Enjoy!
Bondage site
Bondage for beginners
Many people think about bondage but have no idea where to start. Here's TheSite's beginner guide to get you started safely.
A simple definition of bondage is that it restricts someone's movement. Many people have tried a bit of "tie and tease", and found it to be an exciting way to spice up their love life.
The most important aspect of bondage games is trust, because one of the partners started safely.
A simple definition of bondage is that it restricts someone's movement. Many people have tried a bit of "tie and tease", and found it to be an exciting way to spice up their love life.
The most important aspect of bondage games is trust, because one of the partners is restricted and therefore vulnerable. You must be able to trust one another completely; otherwise these kinds of games should never be played. The active partner (or 'top') should never use the session purely to fulfil their own fantasies in a selfish way, they should also think about the pleasure of the restrained partner ('passive partner' or 'bottom').

What's the attraction?

People are attracted to this type of play for a number of different reasons. Being tied up allows some people to relax and enjoy being given pleasure without having to worry about giving pleasure back to their partner at the same time. Others prefer to play-struggle against their restraints, and say it builds up an exciting adrenaline rush. Being blindfolded is supposed to heighten other sensations in the body. The person performing the bondage gets increased feelings of personal power, but of course this must never be abused.

First-time fun ideas

Some things that first-timers can try out include:
· Taking turns to tie each other up with silk scarves and tease one another.
· Tie the passive partner up with something that can easily be broken out of, such as paper streamers, or a really thin chain. Then they only have to stay in that position if they want to be there.
· Blindfolding during sex, massage, or kissing.
· Furry lovecuffs - handcuffs that are padded with fake fur on the inside to prevent chafing, and can't close too far (which cuts off the circulation).
Before you go rushing off to the bedroom (or dungeon!), read our safety tips and reminders.

Safety tips

There are several safety issues to consider when playing bondage games, concerning consent, abuse, and physical injuries. If you don't feel safe with something then don't do it, there are hundreds of other things you can do instead.
· This is NOT something to try with someone you've just met. You really don't know whether they are trustworthy or not until you know them better, however charming they may seem at first.
· Never let a partner coerce or bully you into any sexual practice that you don't want to do. It's perfectly OK to say no, a decent lover will understand.
· Talk about it beforehand and discuss what you plan to do. Say what you will or will not allow. These rules and limits are sacred and must not be broken during the game.
· Have a safe word agreed before you begin. This is something that the passive partner can say if they want the other person to stop, a common safe word is 'enough'. The active partner must then stop what they are doing immediately, and release the passive partner within seconds.
· Never tie something around someone's neck unless it is a collar that's specially made for the purpose. There is a high risk of tissue damage, choking, or fatal strangulation. Similarly, gags are potentially dangerous.
· If someone is tied up, they must never be left alone. The active partner must make sure they are comfortable, breathing properly, and that nothing is cutting off their circulation.
· Do not try bondage in a remote place, just in case there is an accident that leaves the active partner injured and the passive partner tied up with no way of getting help.
· If you've never tried bondage before, don't go straight into anything that uses complicated equipment. This is for experts only and has extra safety issues that you may not understand.
· The rules of safer sex still apply. Use condoms for penetrative sex. Drink and drugs can cause you to seriously underestimate safety risks. Avoid intoxication
Blogarama
Visit my Guestbook